Kissimmee and Orlando in November are packed with events. It's Thanksgiving which brings lots of Holiday eats and treats. And of course Christmas comes early to Orlando. As soon as the tricks and treats disappear, elves are out in force. If you're around Disney from the week of October 31st, you'll see the Halloween to Holidays transformation.
The rest of the planet is blissfully awaiting Santa in December, unaware his Christmas season kicks off in Kissimmee and Orlando in November.
And if you're here for Thanksgiving, our Thanksgiving Dining Guide will give you some great ideas. And don't forget to check out our Kissimmee & Orlando Christmas Guide and Disney Christmas Events Guide.
What's On in Kissimmee & Orlando in November
BBQ Season
If you like BBQ, you're in for a treat. Central Florida is blessed with a multitude of BBQ festivals between November and April.
Enjoy some of the best Southern finger lickin' barbecue around, along with live music, kids zones and lots of family activities. A great day out for all the family.
Beer, Bacon & BBQ Festival – November 2nd – Altamonte Springs
Rock & Brews BBQ – November 16th – Camp Mack
Grillers Gone Wild – November 16th – South Daytona
Plant City Pig Jam – November 22nd – Plant City
You can see full details of all the above festivals on our
---
Epcot Food & Wine Festival
There's still time to take your taste buds on a global food fest walkabout during Orlando in November. The Epcot Food & Wine Festival doesn't end until November 23rd, 2019. Over 30 global food and beverage marketplaces from all over the world offer tasty treats and delicious drinks to wash it all down.
And all the time, your eardrums are being regaled with live music during the Eat to the Beat concert series.
Artist line up for November Eat to the Beat 2019:
October 31 through November 1 – Sheena Easton
November 2 through 3 – Kris Allen – NEW!
November 4 through 6 – Boyz II Men
November 7 through 8 – The Hooters
November 9 through 11 – Big Bad Voodoo Daddy
November 12 through 18 – Joey Fatone and Friends, featuring Chris Kirkpatrick and Ryan Cabrera – NEW!
November 19 – DCappella – NEW!
Showtimes – Sundays to Thursdays: 5:30 PM, 6:45 PM and 8:00 PM
Showtimes – Fridays and Saturdays: 6:30 PM, 7:45 PM and 9:00 PM
Where: EPCOT, Walt Disney World
When: Daily through November 23rd, 2019.
Web: Epcot Food & Wine Festival
---
SeaWorld Praise Wave
Praise Wave returns to SeaWorld to celebrate Christian fellowship with live concerts. Listen to the very best of Christian music while enjoying SeaWorld's other attractions.
Reserved seating is available for $20, with premium reserved seating available for $35.
When: Saturdays, Nov. 2 – Nov. 16 2019
Where: Nautilus Theater, SeaWorld Orlando, 7007 Sea World Drive, Orlando, FL 32821.
Web: SeaWorld Praise Wave
---
November 8th – Holiday Events Begin at Walt Disney World
Orlando in November is a magical month. It gets even more magical when Disney's holiday events start on November 8th.
Animal Kingdom: Starting November 8th with new decor, new holiday village and lots more decor than ever before.
 – see below.
For Full Details see: Mickey's Very Merry Christmas Party | Christmas at Walt Disney World
Orlando Veterans Day Parade
This is Central Florida's largest Veterans Day Parade and features marching bands, ROTC units, active duty military, decorative floats and veterans groups from all military branches representing a wide variety of conflicts.
This year's theme will honor WWII veterans, with the parade's five Grand Marshals all having served during WWII.

When: November 9th 2019 – 11am – 1pm
Where: Downtown Orlando
Web: Veterans Parade
---
Tampa Bay Veg Fest
Whether you are vegan or non vegan – there's some delicious eats and treats available to sample. The Veg Fest features classes and demos, live music, renowned speakers, activities for kids and animal adoptions. And of course, delicious animal-free food.
When: November 9th 2019 – 10am to 5pm
Where: Perry Harvey Sr. Park 1000 E. Harrison St., Tampa, FL 33602
Web: Tamp Bay Veg Fest
---
Cows & Cabs
A culinary treat for foodie aficionados. Cows n Cabs brings together renowned chefs from top local restaurants for this annual charity event held in Orlando in November. The western themed event features live entertainment, a live auction and raffle, craft beer tasting and, of course, awesome food.
The annual event benefits  and
General admission tickets start at $120 and include all food and drink and complimentary cigars.
When: 6pm – 9pm, November 9th, 2019
Where: Central Park West Meadow, 150 W Morse Blvd, Winter Park, FL 32789
Web: Cows n Cabs
---
Annual Pioneer Day
What do you get when you combine history and a hands-on education? A fun day for all the family at the 27th Annual Pioneer Day.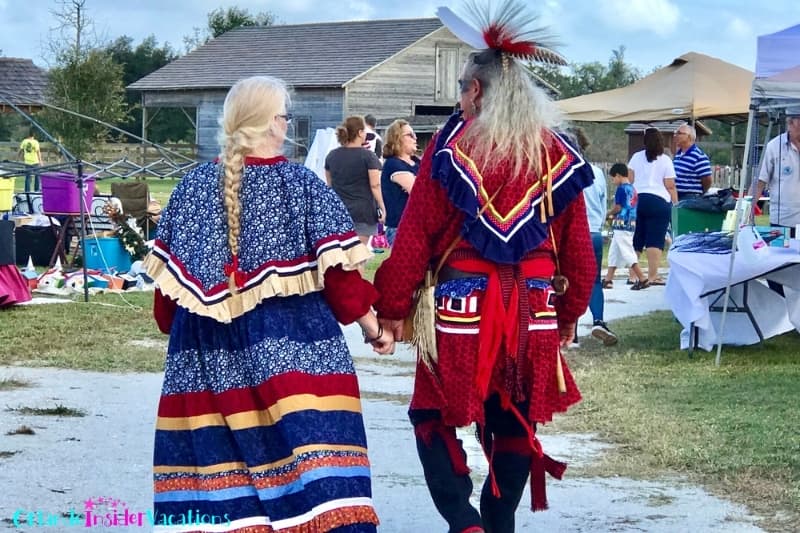 Discover how the Florida Seminoles and early pioneers survived. Learn how to milk a cow or make butter at the Kids Zone. Be entertained with live music by Folk Hill Revival. There are plenty of unique arts and crafts for sale, kids zone, local food vendors
When: November 9th, 2019 from 10am – 4pm
Where: Pioneer Village at Shingle Creek, 2491 Babb Rd., FL 34746
Web: Annual Pioneer Day
---
Honey Bee Craft Fair
This could be the sweetest festival in all of Florida! Learn all about bees and honey. Experience interactive bee observation areas and bee-keeping seminars. Purchase honey candy, honey wine and even beehive starter kits. Do some early Christmas shopping from honey vendors, find unique crafts from over 100 crafters, check out the antique market and enjoy the open car show.
Food available all day at this fun family event.
When: November 9th 2019 – 9am – 4pm
Where: Main Street, Downtown Bartow, Florida.
Web: Honey Bee
---
Lakeridge Winery 28th Annual Holiday Open House
Hot mulled wine, complementary Winery tours and tasting. Special offers in the wine shop. Beer, wine and food available for purchase along with snacks.
A wide variety of arts and crafts on show, also for purchase. Live music on the outdoor stage or in the wine and cheese bar. And all for $10, children under 12 are free.
When: November 8th, 9th and 10th, 2019
Where: Lakeridge Winery and Vineyards, US 27 North, Clermont, FL34715
Web: Annual Holiday Open House
---
Sunset Walk Car Show
Sip and stroll around Sunset Walk at Margaritaville Orlando and check out classic cars, modern cars and trucks. The show is held the second Sunday of every month.
Enjoy a family party atmosphere with rock n roll music from DJ Don of Cruisin Orlando.
When: Sunday November 10th 2019 – 11am to 2pm
Where: Sunset Walk, Kissimmee, Florida
Web: Sunset Walk
---
DeLand Sport Aviation Showcase
Any aircraft geeks in the family? Head over to DeLand where over 100 aircraft will be exhibited, along with demos, aircraft tools, gadgets and gear and all kinds of flying-related goodies.
This annual 3 day even showcases affordable flying ands features live music and food too.
When: November 14th-16th 2019
Where: DeLand Sport Aviation, 1000 Flightline Blvd., DeLand, FL 32724
Web: DeLand Sport Aviation
---
Dapper Day at Disney
Dapper Day is an organization that celebrates refined style from yesterday. They organize social events at various locations including Disney parks. Put on your bestest and finest, join the fun and "step out in style."
Friday November 15th Disney Springs
Saturday November 16th: Disney's Hollywood Studios
Sunday November 17th Epcot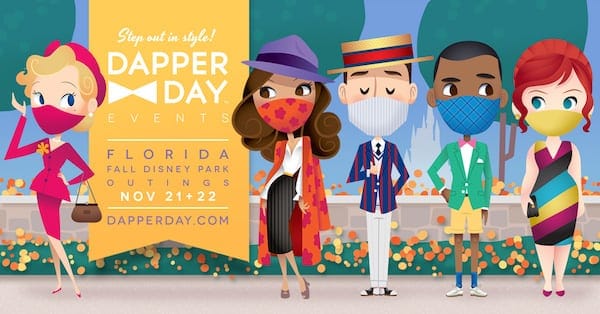 Image ©DapperDay – http://www.photographybystephenie.com
When: November 15th, 16th and 17th, 2019
Where: Walt Disney World
Web: Dapper Day
---
Christmas at Universal Orlando
Orlando in November brings us some exciting Holiday events to Universal Orlando.
The Holiday Parade featuring Macy's is joined by those lovable Minions along with floats from Madagascar, Shrek and The Secret Lives of Pets. Oh, and of course, Santa.
The Grinchmas Who-liday Spectacular at Seuss Landing stars the Grinch who is available for breakfast with some of his friends.
The amazing Mannheim Steamrollers will sing their way throughout the weekends, bringing you the best in Festive songs.
Nov. 16, 17, 23, 24 and 30
Dec. 1, 7, 8, 14 and 15
When: Nov 16th 2019 – Jan 5th 2020.
Where: Universal Studios Orlando and Islands of Adventure
Info: Universal Orlando Christmas Events
---
Busch Gardens Christmas Town
Busch Gardens is transformed into a wintery wonderland for Christmas Town. Live shows, entertainment, holiday food and crafts and of course Santa.
Live Shows: Christmas on Ice, Christmas Is, Christmas From The Heart, Elmos's Christmas Wish, Christmas Town Band.
Christmas Town Village: Holiday eats and treats and specialty cabins selling Christmas gifts and decor.
Character Meets: Rudolph's Winter Wonderland, Santa's House
Tours: VIP Guided Tour, Santa's Select Tour
When: November 16th, 2019 – January 5th, 2020.
Where: Busch Gardens Tampa Bay
Info: Busch Gardens Christmas Town
---
Mount Dora Scottish Highland Festival
Enjoy Scottish musicians and bands at their finest plus an afternoon of Highland games. There will be Celtic music, dancing, athletics, Kids' activities, food and beverage vendors, Scottish Reenactment Camps and the Society and Heritage Clan Village.
Image Credit: City of Mount Dora
When: November 16th – November 17th 2019
Where: Gilbert Park, Mount Dora FL 32756
Web: Mount Dora Scottish Highland Festival 
---
Ormond Beach RiverFest Seafood Festival
Fancy a day at the coast? Head north 90 minutes to Ormond riverfront and enjoy a day of seafood, waterspouts, boating, live music and Florida water life in general.
This seafood festival celebrates all things edible – from fried shrimp to fresh fish tacos, poke bowls to authentic Philly cheesesteaks. For those with a sweet tooth, enjoy deep-fried oreos, sweet & salty kettle corn or gourmet cotton candy as you wander.
Then wash it all down with a cold draft beer or a chilled soda from the beer garden.
Posted by Ormond Mainstreet on Tuesday, August 6, 2019
There's fun for all the family, including a kids fishing clinic, chef demonstrations and a kids' zone, crafts and games, bungees, water balls, bounce houses and face painting.
Free admission and free parking, along with free shuttles from the City Hall parking lot. The event is pet friendly too.
When: November 16th 2019 – 10am to 6pm, November 17th 2019 – 10am to 4pm.
Where: Rockefeller Gardens, 25 Riverside Drive Ormond Beach, FL 32176
Web:
---
Central Florida International Auto Show
The Annual Central Florida International Auto Show is a 3 day event held at the Orange County Convention Center. The event will showcase over 400 vehicles from high-end sports cars to crossovers, trucks and electrical cars. Come and see the latest models to hit the streets or take a test drive. See the future of auto design and technology with the pre-production models.
There'll be entertainment for the kids including test-driving mini electric vehicles and a funzone. Other fun events include face painting, balloon artistry and the Spider Jump.
When:  November 20th – 22nd, 2019.
Where: 
Website: Central Florida International Auto Show
---
Free Play Florida
If you have ever played with an electronic game, and who hasn't, this is for you.
Orlando in November brings this three day event of everything you've ever wanted to know about gaming. It features over 200 arcade and pinball machines, plus hundreds of consoles. Tickets from $25.
When: November 22nd – 24th, 2019.
Where: Double Tree by Hilton Orlando at SeaWorld, 10100 International Drive, FL 32821.
Web: Free Play Florida
---
Daytona Speedway Magic of Lights
Enjoy the display from your own vehicle as you wind your way through this dazzling light display. It features over 1 million twinkling holiday lights.
Tickets are per vehicle and start at $17 for early bird registration, $20 for advance purchase or $25 for general admission for all standard vehicles. Higher priced for limo's or party bus.
When: November 22nd 2019 – January 1st 2020 – Daily 6pm – 10pm (Nov 27th – Dec 1 7pm to 10pm)
Where: Daytona Speedway, 1801 W International Speedway Blvd.
Daytona Beach, FL 32114
Web: Magic of Lights
---
SeaWorld Christmas Celebrations
SeaWorld will be celebrating the Christmas Holidays on select nights from November 23rd, 2019. Enjoy the dazzling displays and wondrous tales told with music, animals and puppets.
What Not to Miss:
Shamu Christmas Miracles
O Wondrous Night
Winter Wonderland on Ice
Sea of Trees
Meet Rudolph at the New Rudolph ChristmasTown
Clyde & Seamore's Countdown to Christmas
Meet Santa Claus at Wild Arctic
Rudolph's Movie Experience
When: Select Nights November 23rd to December 31st 2019.
Where: SeaWorld Orlando
Admission: Included with Regular Ticket
Website:  SeaWorld Christmas Celebration
---
Dunedin Celtic Music & Craft Beer Festival
Any Music fans? Beer Fans? Food Fans? What's not to love! It might be a little further away at around 80 miles, but The Dunedin Celtic Music & Craft Beer Festival will give you a full day and night out.
November 23rd is set to be a great day of food and fun packed with endless entertainment. Live entertainment, food vendor and craft beers by several breweries.
Gates open at 10am and bands start playing at noon.
Lots of great bands will be performing all day including The Young Dubliners and Off Kilter, a well-known, Celtic rock band who had an 18 year run performing at Canada's Epcot Pavillion. See website for Full Band Line-Up
When: November 23rd, 2019 from 12 noon – 10pm
Where: Highlander Park, 903 Michigan Blvd, Dunedin, FL 34698
Website: Dunedin Celtic Music & Craft Beer Festival
KIDZ BOP World Tour 2019
This interactive family-friendly concert is a huge hit with kids of all ages. They'll be singing and dancing throughout the show.
Tickets cost $49.50, $39.50 & 29.50
When: Sunday November 24th 2019 – 4pm (doors open 3pm)
Where: Siver Spurs Arena
Web: Kidz Bop – OH Park
---
ICE! featuring Christmas Around the World
Orlando in November also welcomes the Christmas events at Gaylord Palms. Events kick off on November 25th. with The Polar Express, a show with choreographed lighting. The 60 foot Christmas Tree in the resort atrium is circled by the lights and music with dazzling effects.
Lead your family through 2 million pounds of carefully carved ice sculptures and the traditional Nativity scene.
Gaylord Palms Christmas Events from November 25th:
ICE! Featuring The Polar Express
Dreams of Christmas Light Show
Cirque Dreams Unwrapped Stage Show
Naughty or Nice Escape Room
The Secret Santa Scavenger Hunt
8 lanes of snow tubing and Santa's Snow Throw with real snowballs
Gingerbread Decorating Corner
Santa's Snow Throw
When: November 25th, 2019 to January 5th, 2020.
Where: Gaylord Palms, 6000 West Osceola Parkway · Kissimmee 34746
Web: Gaylord Palms Christmas Events
---
Epcot International Festival of The Holidays
Events from November 29th – December 30th, 2019.
Epcot bursts into holiday life on November 29th 2019. Events include Holiday Kitchens offering an array of international food.
There are sights and sounds of special entertainment celebrating each country's holiday heritage in World Showcase. Kids of all ages will enjoy Chip & Dale's Christmas Tree Spree scavenger hunt. IllumiNations: Reflections of Earth includes a special Holiday message.
See full list of events here: Epcot International Festival of The Holidays.
---
Thanksgiving 
November 28th is, of course, Thanksgiving. There are lots of restaurants serving Thanksgiving feasts.
Here's our top picks: Thanksgiving in Orlando Dining Guide
---
Bok Tower Holiday Home Tour
Holidays at Bok Tower Gardens gives you the opportunity to enjoy the 25th Anniversary Holiday Home Tour at Pinewood Estate, poinsettia, bromeliad and amaryllis displays, live music on the 205-foot Singing Tower carillon, winter walking tours, and a variety of seasonal programs.
Nature's seasonal beauty provides the inspiration for this year's celebration. From creatures great and small, to the cheerful nod of seasonal foliage, visitors will discover a rich palette of natural beauty as the Gardens' celebrates the landscape and the history that has shaped this majestic area.
When: November 29 2019 through January 5th 2020.
Where: Bok Tower Gardens, 1151 Tower Blvd, Lake Wales, FL 33853
Web: Bok Tower Gardens Holiday Home Tour
---
Seniors First Turkey Trot 5K
Exercise enthusiast? Head on down to the annual Senior First Turkey Trot on Thanksgiving morning.
It's open to all, whether you're walking, jogging, running, or even if you have a stroller – come on down and join the 5,000 other people getting their morning exercise on.
And it's all in good cause. The fun run raises money for Meals on Wheels and other programs that support seniors in the Orlando community.
Not a morning person?
No problem – with lots of people taking the chance to run in turkey costumes, it's always worth a watch (and there's plenty of hot coffee around).
Plus, every race needs a cheering crowd, right?
When: Thursday, November 28th, 2019.
Where: Lake Eola, 227 N. Eola Dr., Orlando, FL 32801
Web: Seniors First Turkey Trot 5k
---
Now Snowing, Celebration Town
Celebration Florida has lots of events happening for the Holidays during the Now Snowing in Celebration. Visit Santa, go ice skating, take a horse drawn carriage ride and enjoy free live entertainment.
The Now Snowing event begins with the Tree Lighting Ceremony on November 30th.
And of course, the ever popular Now Snowing in Celebration which will be held nightly from the Tree Lighting event. See our Celebration Christmas Guide for full details.
When: November 30th 2019 – December 31st, 2019.
Where: Celebration Florida
Web: Celebration Now Snowing Events
---
38th Annual Light Up Mount Dora
Donnelly Park and Mount Dora are lit up in spectacular style by over 2 million sparkling lights.
Further entertainment includes traditional Christmas songs and dancers. Lighting of Donnelly Park takes place at 4.30pm – 6.30pm.
When: Nov 30th, 2019.
Where: Donnelly Park, Mount Dora
Web: Mount Dora Christmas Events
---
We hope you enjoy Orlando in November as much as we do! Let us know if there are any events need adding, we update regularly.
If you're coming for Christmas at Walt Disney World, we'd love to welcome you to our Orlando accommodation.
Check out how we decorate our homes for Christmas.
See All Orlando & Kissimmee Christmas Events
Walt Disney World Christmas:
---
Universal Holiday Events
---
SeaWorld & Busch Gardens Holiday Events
---
Christmas Events
---
The post Kissimmee & Orlando in November 2019 – Plenty to be Thankful For appeared first on Vacation Soup.
This content was originally published here.